13 September 2021
Introducing Unlocked: A new way to engage students with dramatic texts

How do you make something that genuinely helps teachers? It takes time and care to nurture the kernel of an idea into something meaningful. The creative process is – like education itself – something that takes a lot of hard work, practice, research and empathy. In the beginning, there are questions: lots and lots of questions. What can we do to support educators? How do we engage learners? How do we help teachers to help their students? We approach as many teachers as we possibly can and then, as any good students should, we listen. We listen, we ask more questions and we listen again, and from those ongoing conversations, a resource like Unlocked is born.
If you've yet to come across Unlocked episodes, don't worry. They aren't difficult to explain. Unlocked is a style of video resource that combines graphics on screen – key quotations, terminology, definitions, even imagery—with short, relevant clips from the Digital Theatre+ library.
Let's say you're looking at a soliloquy. What better way to support student learning than to illustrate what a soliloquy is on screen, and then to show several different examples from a range of productions? Any displayed text is intuitively and neatly arranged in clear layouts, allowing students to screenshot the sections they find helpful.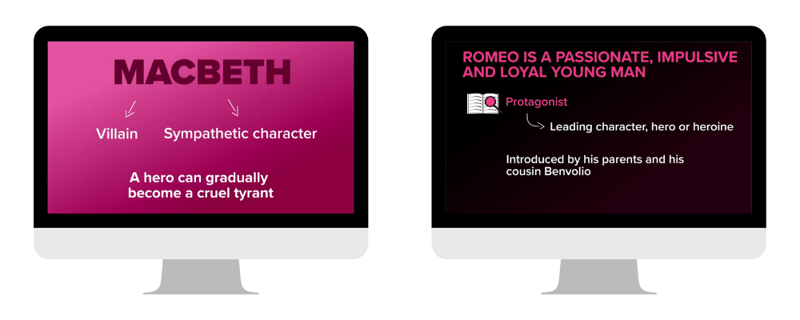 Across the series, a range of skills-building and knowledge checking questions are also presented to the viewer. "The content and topics covered in the Unlocked series are designed to encourage students to discuss and reflect on what they're learning," explains Sarah Davies, one of the Unlocked writers and Head of English at E-ACT Royton and Crompton Academy.
The nature of these questions varies depending on the topic and subject: how many similes can you spot in the following clip? Can you think of any other interpretations? What do you think is the implicit meaning of the sentence? This provides educators with useful moments across the video that they can use to check understanding. As Sarah notes, "These resources can not only be used to support knowledge acquisition – they're also a perfect retrieval opportunity."
It was important to us that the content was carefully curated and developed by people who truly understand the challenges felt by learners. For this reason, the scripts, guides and worksheets are written by teachers—after all, who better to rise to the task? We wanted to build something that unlocked (… get it?) any barriers to student learning, opened up new pathways to understanding and provided a solid foundation for core areas of the curriculum. We also wanted to make something that could be used in lots of different ways: no two classes and no two students are the same, and we designed Unlocked to reflect that.
"The events of the past few years have definitely opened our eyes to providing students with more resources that can be accessed independently," adds Sarah. "Unlocked can be used in the classroom, but is also beneficial as a support tool for those who might not be able to access on-site learning, or for those who want to revise key areas in more depth."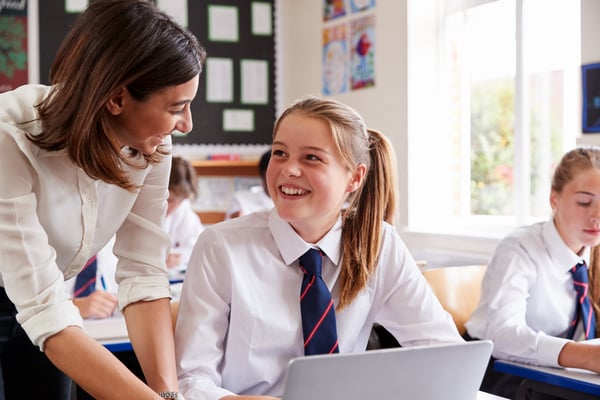 Creating a resource that can be used in different ways is an interesting challenge. We kept the videos short—between 6 and 8 minutes on average—to ensure they could be used front-of-class. They are built to be student-facing, so that students can watch independently, either as a learning tool or to recap before class. Students can learn from home, answering questions or simply taking notes, or they can engage as part of group discussion in the classroom.
Teachers who are teaching outside of specialism or who are substituting can also benefit from the series. "When it comes to supply teaching, what works best is what works easiest," explains Giles Gough, a former substitute teacher for English Literature. "The Unlocked videos are a brilliantly user friendly resource that act as a great starting point for students to get a grip on the subject matter."
Unlocked isn't just used in a versatile way: it also covers a broad range of different topics. Some series are reading comprehension focused, addressing key areas of learning for a variety of popular texts. Others are more skills based; for example, we'll soon release an Unlocked series that supports the development of oral proficiency skills. The initial launch focused on ELA and English skills, but subsequent series will focus on Theatre and Drama, across younger and older learners.
The moment that a resource goes live is a nerve-wracking one. Nobody wants to learn that they have an ugly baby, and so when the time comes to release new content into the wilds, we wait with bated breath. Have we listened and really heard? Are we good students after all? Unlocked released at the end of April, and we were quick to gather as much feedback from teachers as possible.
The response was both humbling and relieving. "This is the best organized and practical teaching material I have found for this topic," commented Tom Goodlet, Director of Fine Arts at Evangelical Christian School in Florida. "The short 6 to 7-minute videos are perfect for mini-lessons. Of course, absolutely love the different performance snippets embedded in the videos," wrote Elizabeth Jacobi, ELA Teacher at Faith Lutheran Middle and High School in Nevada. And another personal favorite: "I liked the bitesize approach. The videos are engaging and colorful. […] Great way to learn the material!" from Janaquin Clark at the Quarry Lane School in California.
It's a long journey and we're nowhere near done. We'll continue having those important conversations with teachers. We'll continue listening. Over time, we'll make sure that Unlocked does absolutely everything that you need it to do – and more.
Want to learn more about this series and how it can support you and your students? To find out more, get in touch with a member of our team today.
Related blogs
5 ways to level up your classroom group work
Do you think group work is a super valuable component of any successful classroom community? And...
Read more
Get the latest teaching tips straight to your inbox
Explore free lesson ideas and inspiration, education news, teaching trends and much more by signing up to regular blog updates!