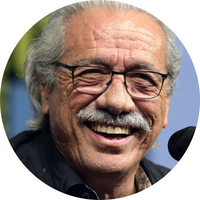 Edward James Olmos
Edward James Olmos is an actor, director, producer, and activist best known for his roles as El Pachuco in the Zoot Suit stage premiere and film, Gaff in Blade Runner and Blade Runner 2049, Commander Adama in Battlestar Galactica, and Jaime Escalante in Stand and Deliver. Olmos also starred in tv shows including Miami Vice and The Mayans. The first American-born Hispanic actor to receive an Academy Award nomination for Best Actor, Olmos has been a crusader for better representation of Chicano and Latin-American characters in American television and film. A philanthropist and activist, Olmos is the guiding force behind many social justice initiatives, including the Los Angeles Latino International Film Festival, Latino Literacy Now, and Latino Public Broadcasting. He also supports the SENS Research Foundation, an organization committed to curing diseases caused by aging.
Luis Valdez
Luis Valdez is a playwright, stage director, filmmaker, and actor who is generally held to be the "father of Chicano theatre." The Founder of the revolutionary theatre company El Teatro Campesino, which is now the oldest community theatre in the US, Valdez is best known for his play Zoot Suit which he made into a blockbuster film of the same name. Born to farmworker parents, Valdez collaborated with civil rights leaders Cesar Chavez and Dolores Huerta. A former professor of theatre as well as a renowned artist, Valdez is also well known as the writer and director of the hit film La Bamba, and was awarded the National Presidential Medal of the Arts by Barack Obama in 2015. He is the author of Theatre of the Sphere: The Vibrant Being (Routledge 2021).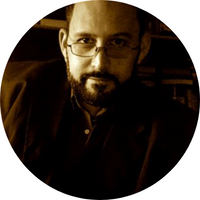 Michael M. Chemers
Michael Mark Chemers is a professor of Dramatic Literature at the University of California Santa Cruz. He was the Scholar-In-Residence at El Teatro Campesino in 2019 and is the editor of The Theatre of Luis Valdez (Routledge, 2021) and of Luis Valdez's treatise on acting and dramaturgy, Theatre of the Sphere: The Vibrant Being. A scholar, dramaturg and playwright, Michael is the author of Ghost Light: An Introductory Handbook for Dramaturgy (Southern Illinois University Press, 2010/2023), The Monster in Theatre History: This Thing of Darkness (Routledge 2018), Systemic Dramaturgy (SIUP, 2022), and Staging Stigma: A Critical Examination of the American Freak Show (Palgrave MacMillan, 2008). He is the Chair of the Department of Performance, Play & Design at UC Santa Cruz.