18 April 2023
3 simple ways to connect your students with poetry

How do your students feel about poetry? Are they excited by the poems they're studying? Do they look forward to hearing about poetry in class?
If your answer falls a little flat, don't worry. Many educators report difficulties in engaging their students with poetry, especially when it comes to older poems that use archaic language and seem far-removed from modern life. For educators looking for supporting resources, there are very few that truly help to breathe life into the form.
And yet, despite common assumptions, interest in poetry is on the rise among young people. The Canadian poet Rupi Kaur has 4.3 million Instagram followers and regularly tops the bestseller lists in multiple countries across the world. In September 2021, Amanda Gorman — the youngest inaugural poet in US history — launched a poetry award for high school students, with a first-place prize of $10,000. Students are still reaching for poetry as a form of expression that helps them to contextualize and engage with the world around them, and to understand the experiences of others. It's an essential part of literature curriculums.
So: how can we ensure that our students have the best possible chance in engaging with poetry? How can we ignite and then protect that crucial spark of interest?
Let's look at three starting points to help you along this journey.
1. Find poems that resonate with your students
Poetry is a highly personal form of literature. A good poem can introduce your students to perspectives they've never encountered before, help them interrogate complex social issues, and even encourage them to express deeply felt emotions. This is a wonderful opportunity, so selecting poetry that resonates with your students and their lives is important. Try not to be too prescriptive with your planning—connections can pop up unexpectedly.
"I felt particularly connected to 'Tissue'", explains Lydia Bakelmun, the actor who recited Imtiaz Dharker's poem for the Poetry in Action series. "The human need to connect, to touch and feel, to see and wonder at the world is so important." Lydia's connection to the poem, though unexpected, was deeply personal and built from her own memories and experiences. "I have very clear memories of tracing the family tree in the back of my grandmother's Bible, so that image in the poem is very real to me," she explains. "I found it particularly moving as someone of mixed heritage: the poem reminds us to feel strong, empowered, and proud of our history."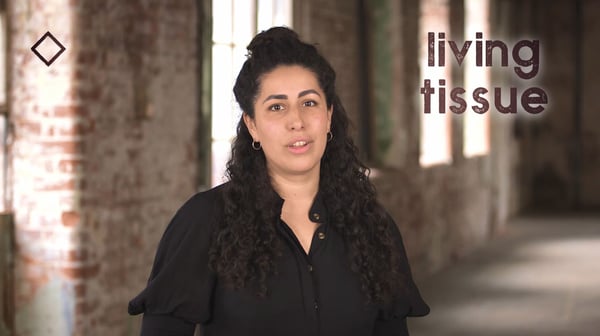 Tissue by Imtiaz Dharker: The Recital
Help your students to understand why the poems you teach are relevant to them. Encourage students to contemporize an older poem:
How is it relevant today?
Have things changed?
What would the modern equivalent of the poem look like?
Establish new connections to older poems through the eyes of the modern viewer — could 'Ozymandias' by Percy Bysshe Shelley have any connection to the climate crisis? How does Robert Browning's 'My Last Duchess' reflect current understandings of gender and power? Provide space for your students to connect to the poems, no matter when they were written—or who they were written by.
2. Build a diverse reading list
Lots of poems are short — less than five minutes to recite and often far less time to read. This is an important consideration because a carefully selected poem can spark classroom discussion within minutes.
Diversity has a crucial part to play in this: through poetry, you can quickly introduce students to a range of different cultures and identities. By including excellent poets — James Weldon Johnson, Rita Dove, Imtiaz Dharker — you can explore celebrations of culture and systems of oppression, and through these shorter texts, supplement a thorough and detailed curriculum.
If you're building your own selection of poems to teach, try to incorporate a diverse range of poets from multiple different cultures. If you're drawing from an existing anthology, why not build a supplementary reading list? Use the broader range of poems to support the themes, concepts, and skills of the wider curriculum.
3. Consider the role of performance
Poetry is not prose — most poems are designed to be read aloud and heard. In this way, poetry has more in common with a play than a novel; the text is important, but so is understanding how it is meant to be recited. By considering both the text and the recital, your students will develop a deeper understanding of the work.
If you're willing to embrace this element of poetry, a huge number of opportunities are open to you. There are lots of recitals you can access and many different styles to consider. Engage students in older poetry, like Shakespearean sonnets, through celebrity recitals, or encourage them to compare and contrast multiple different interpretations of the same poem. Through recital, students can also see a range of different voices and ethnicities breathing new life into some of the established canon. This acts as an excellent reminder to students that you do not have to be the same race, gender, or cultural identity as the poet for your interpretation to be valid and meaningful.
There's no hard 'rule' around how to teach poetry in your class. Find the approach that works best for you and your students and remember: poetry is one of the best ways to reflect a range of identities and perspectives.
"I love the idea of making poetry accessible for everyone, especially young people," explains Lydia. "Poetry is vital, alive, and such a pure form of expression and should be connected with on an emotional and visceral level. The more we read and the more we discover, the better we understand and connect with the world and the people around us."
Want to learn more about this series and how it can support you and your students? To find out more, get in touch with a member of our team today. If you already have access to Digital Theatre+, click here.
Related blogs
5 ways to level up your classroom group work
Do you think group work is a super valuable component of any successful classroom community? And...
Read more
Get the latest teaching tips straight to your inbox
Explore free lesson ideas and inspiration, education news, teaching trends and much more by signing up to regular blog updates!