12 September 2022
5 easy ways to introduce students to a new text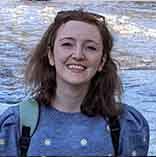 Back to school can be the perfect time to introduce a text to your students for the first time. Now, introducing a text is not a small job. Depending on your chosen text, this can feel like a mammoth task! But you don't need to worry – we've got some top tips to help you introduce a text to students for the very first time.
1. Introducing the author
A great way to introduce a text to your students is by first introducing the author! Let's say you're looking at Macbeth or Romeo and Juliet – students will already know the name William Shakespeare, but what do they know about the man behind the text?
Shakespeare is pretty famous, but lots of students might not yet know anything about this author. A great place to start would be to get your students to watch Spotlight On: William Shakespeare. Giving your students some fun facts about Shakespeare might prompt their interest. For example, did you know that Shakespeare wrote a curse to be written on his gravestone? Spooky! He said that anyone who moved his bones would be cursed. To this day, his remains have never been disturbed…
Who you choose to introduce depends entirely on what your chosen text is. Many authors and playwrights live rich and interesting lives, so hopefully even the most unengaged students can find something they can connect with!
2. Introducing context
Now that your students know something about the author, it's time to start to look at the text more deeply. But before you start digging into the characters, there's some historical context that will help lay solid foundations as you go forward.
If you're studying Arthur Miller's The Crucible, there are some key bits of historical context that will really help students. Now, this play has some incredibly complex historical influences, so it's important to choose what your students need to know to give them foundational knowledge. Remember you're just introducing the text at this stage, so they probably don't need to know about anti-Communist sentiment during the Cold War at the time Miller was writing. Instead, focus on something that will really engage and interest new readers – and what better to introduce them to The Crucible than the Salem Witch Trials of 1692?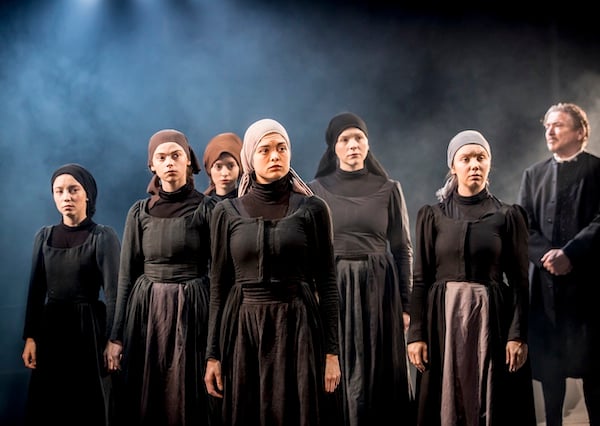 The Crucible | Old Vic Theatre © Johan Persson
The history of the Salem Witch Trials is intriguing to many – a village fearful of witchcraft with residents turning against each other, only to result in the hanging of 19 people. Not only this, but it's a great way to get students thinking about one of the key themes of the play: hysteria. You could introduce them to the context, then steer them to watch Unlocking Theme: Hysteria in The Crucible to link nicely into a textual study of the play!
3. Introducing plot
Plot is absolutely key. If students understand what's going on, they can really delve into the analysis. When introducing a text, why not consider showing your students the production alongside what they are learning? It's a great visual tool that can allow students a deeper understanding and appreciation for what they are reading. If you're studying Romeo and Juliet, for example, you can use the Unlocked: Study Guide alongside the production. The Study Guide has helpful plot summaries for each act, which can be a great start as you and your students begin to narrow your focus.
4. Introducing theme
While you don't have to follow this structure, as it depends on the text you've chosen and what fits best for you, there are some key parts of a text you'll want and need your students to understand. A text usually breaks down into the following: Theme, Character, Structure, Language and Literary Devices. The main two to focus on when introducing a text are theme and character; once students understand those, then structure, language and literary devices can be developed and interweaved.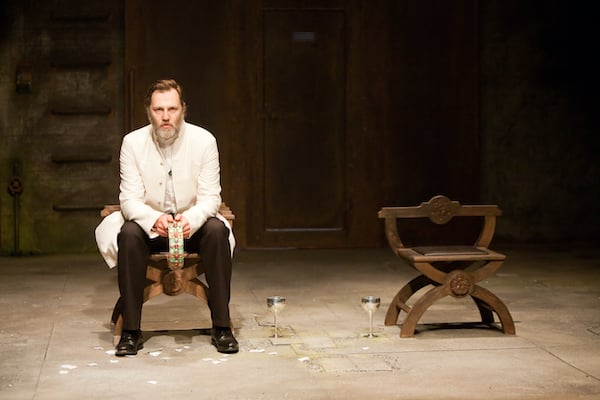 Macbeth | Liverpool Everyman © Helen Warner
Let's start with theme. This goes further than just the key ideas of a text. Why not ask your students to think about things they notice again and again as they read through the text or watch a production? These recurring ideas become a theme. For example, if you're studying Shakespeare's Macbeth, why not watch our Unlocking Theme: Ambition in Macbeth? This is a great start to introduce where the theme appears, which characters are involved, and why it is important. There are so many potential places you can go!
5. Introducing character
Characters often stir a lot of emotion in a reader or a viewer. Whether it's a tragic protagonist such as Othello, or the complexities behind the Creature in Frankenstein, characters cause debate and offer great opportunities for learning.
For your chosen text, give your students a character card for a particular character. This could include a brief summary of who that character is, what role they play and some key quotations. Then, ask your students to pretend they are that character. If each student has a different character, they can begin to gain a deeper understanding of how they might interact with each other.
Relationship maps are also a great way to help students visually see how each character relates to another. Who loves who? Who hates who? Get your students to list out each of the main characters they've been introduced to, then think about what connection a particular character might have to another. Studying Shakespeare's The Tempest? Check out the relationship map on page 33 for a visual guide to the characters and how they relate to each other!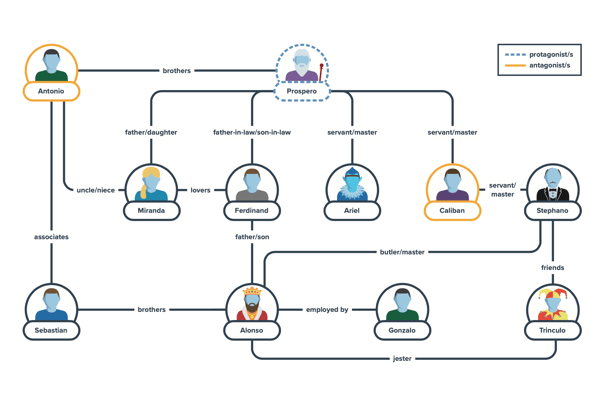 Relationship map from Unlocked Study Guide: The Tempest
Hopefully these tips and suggestions will help to break down the mammoth task of introducing a text into more digestible chunks. Whatever aspect you introduce, whether it be theme, character, or literary devices, be sure to always use direct examples from the text. Remember, Digital Theatre+ has full productions available, broken down into acts and scenes. Whatever you need to find, you can trust we have it available!
Want to learn more about how our resources can support you and your students? To find out more, get in touch with a member of our team today.
Related blogs
How to make Shakespeare's language more accessible to students
One of the biggest struggles many students face when studying Shakespeare is the language he uses....
Read more
Get the latest teaching tips straight to your inbox
Explore free lesson ideas and inspiration, education news, teaching trends and much more by signing up to regular blog updates!