12 September 2022
Javaad Alipoor on Rich Kids and creating digital theatre
Javaad Alipoor's innovative theatre work sits at the intersection between politics and technology and explores the impact of both on today's world. We're excited to announce that we now have a full-length capture of his 2019 play Rich Kids: A History of Shopping Malls in Tehran on Digital Theatre+.
The first play in the trilogy of which Rich Kids is the second part, Believers Are But Brothers used a live WhatsApp group in the live theatre show to explore themes of masculinity, violence and the internet. Rich Kids incorporates a live Instagram feed to help construct a narrative around the widening gap between rich and poor, the climate crisis and identity.
We asked Javaad to tell us about these shows and his perspective on the relationship between theatre as an art form and the online environment.
Talia Rodgers
Head of HE, Digital Theatre+
---
I started working on Rich Kids because I always knew that Believers had been the first part of a trilogy. I wanted to look at the intersection of contemporary politics and contemporary technology from different angles. If the first part had been about young men who perceived themselves to be without power and influence and their resentment, I wanted the second part to be about a wholly different kind of people – and how they are shaping the world.
I happen to have Iranian heritage on one side of my family and, at the time, a number of news stories had come out about how the spoiled children of the ostensibly austere and Islamic men who run the regime there were causing political problems because of how they were spending their fathers' money. When I started researching it, I became convinced that at its heart there was something really important to share here about consumption, technology and history: a piece of work that helped to shift Eurocentric stereotypes of what countries like Iran are, and how they define the world we all live in.
When we first adapted this work from a live performance into a digital/film/theatre hybrid piece, my team and I weren't thinking about the politics or social effects of moving work online. We were thinking about how to tell our story and were struck by the idea that we had found ourselves in a lucky position. We were deep into the first COVID-19 lockdown and, like a lot of people, had been watching a lot of the digital theatre being shared through the internet. We were lucky because we had made a piece of work that, deep in its bones, seemed to speak to the pandemic that none of us knew was coming. The sense of a society coming apart, a world collapsing, and the weird way that time was operating were all aspects of the original. But as the work found its online audience and was able to tour the world digitally, I noticed things about this process of adaptation and distribution that I hadn't ever come across before.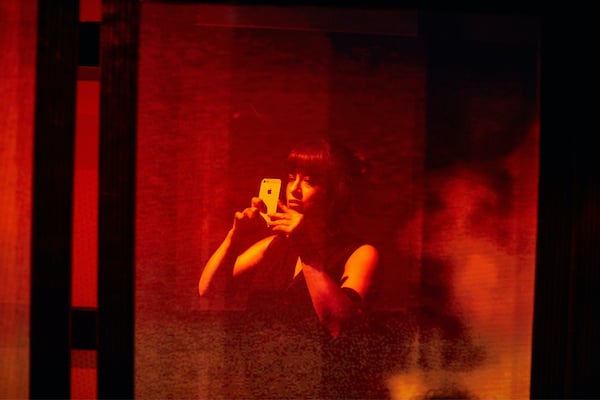 Rich Kids: A History of Shopping Malls in Tehran | Javaad Alipoor Company © Peter Dibdin
From its US premiere at Under the Radar, I started to notice that, amongst the audience, there were ones and twos of people watching the show from countries like Iran – dictatorships with the same kind of social factors as the ones presented in the show; countries in which this work would be censored usually.
This was an interesting thing to witness. One strand of my recent work in shows like this has been thinking about the corrosive but also transformational power of social media, and here I was able to see practically how making a show digital was able to achieve something that the "live" theatre version would never have been able to.
I think there is a broader point here, and I hope this show can be a small part of it. The point is that I think too much digital art concerns itself with the spectacle of what digital tech and tech in general can achieve. We end up making work that is too respectful of the medium we are using. And as artists, we should be lots of things, but not too respectful; otherwise, the work can end up being a sort of technical demonstration rather than anything else.
Ultimately, if our work is really going to be something that helps people think differently about the world around them, it has to use the tech (if it uses it!) that we use every day in a way that is much more about playfulness, experimentation and disrespect. We have to be a bit more like punks smashing guitars and doing whatever we want with them than like prog rock dinosaurs in love with the technique of a keyboard player.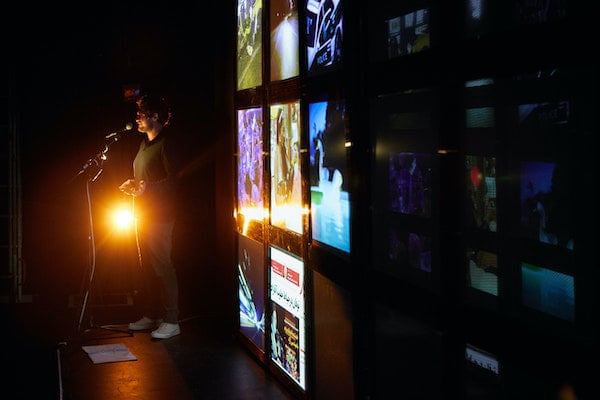 Javaad Alipoor in Rich Kids: A History of Shopping Malls in Tehran © Peter Dibdin
And it's when we do that that the real social power of art – its important, irreplaceable place at the heart of democratic society – can be seen. Because there is nothing else which can give us that peculiar view of the things we do every day in quite the same way. Only art can unite the head and the heart when it asks questions, and really only art can make the everyday processes of meaning-making and complicity seem as weird as they actually are.
Even more importantly than that, grabbing tech and making it do weird things artistically can be a crucial part of how we reimagine the world coming. Our world is connected in greater and more bizarre ways every day. The internet contains almost every conceivable community, however niche the interest or far spread its physical geography. I think trying to make these communities consciously and artistically has, within it, a germ of the older more utopian vision of the internet as a site of resistance and a place where the older IRL forms of exclusion – be they about minority status, lack of representation or accessibility – can begin to be challenged.
Want to learn more about this production and how it can support you and your students? To find out more, get in touch with a member of our team today.
Related blogs
Teaching Toward a Joy Supreme
As almost goes without saying, creating joyful moments in the classroom has been a hard slog since...
Read more
Get the latest teaching tips straight to your inbox
Explore free lesson ideas and inspiration, education news, teaching trends and much more by signing up to regular blog updates!