17 June 2022
Top resources to celebrate Pride Month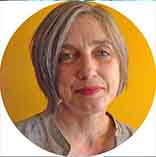 Pride Month is a recognition of the contributions of LBGTQ+ people in our daily lives and in our histories. June is designated as Pride Month due to a historical moment in queer history: the Stonewall Uprising on June 28, 1969, in the West Village of NYC. Stonewall Inn, a queer gathering place, was raided by the New York Police Department many times previous to June 28th, first on the pretense that any establishment that served liquor to queer-identified people was inherently "disorderly" given that same-sex behavior was still illegal in public establishments.
The reasons behind the Uprising happening at this time are multiple. The Inn's Mafia-affiliated owners had paid off the local NYPD precinct to forewarn the bar of a raid; however, on this early morning, there was no warning. The raid had been particularly brutal, with police hitting patrons with batons as they waited for police cars and vans that were late to arrive. Queer folx fought back by throwing objects, including high-heel shoes, at the police, who then retreated and barricaded themselves inside the Inn. Hundreds of angry New Yorkers, both LBGTQ+ and allies, yelled at the police and at some point, a fire was started to literally smoke them out. Eventually, the fire was extinguished but the uprising continued for six days.
The Stonewall Uprising galvanized several gay rights organizations, including the Gay Liberation Front, the Human Rights Campaign, GLAAD (formerly Gay and Lesbian Alliance Against Defamation) and PFLAG (previously known as Parents, Families and Friends of Lesbians and Gays). On the year anniversary of the Uprising, thousands of New Yorkers marched from the West Village to Central Park on what was called "Christopher Street Liberation Day," and thus became the first gay pride parade in the United States.
Currently, most cities in the US have Pride Parades around the end of June. In New York City, every civic organization, branches of the military, and Fortune 500 companies, including the New York Police Department, march in the parade as a show of solidarity and commitment to a more inclusive world.
Here are some suggestions for lessons you can do with your older high school or college students during Pride Month.
High School
Utilize our Discover, Explore, Assess: Student Workbook and Teacher Notes for the production of the musical Kinky Boots, written by Cyndi Lauper and Harvey Fierstein. Contrast Kinky Boots' portrayal of drag performance with that of the Witches in the Tara Arts production of Macbeth. The drag in Kinky Boots is based in "realness," while the drag performances in

Macbeth

are clearly men performing as women. How do these portrayals heighten the themes of the musical and the play respectively?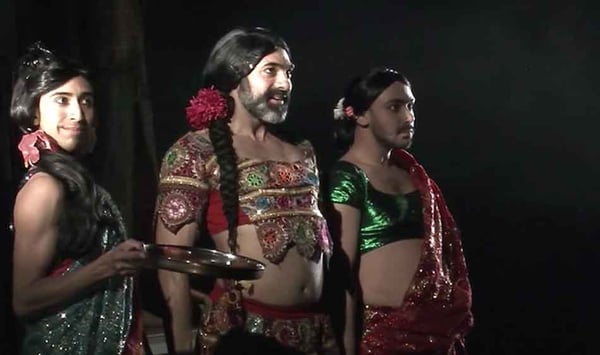 Macbeth © Tara Arts
The Study Guide for Beautiful Thing gives a context to the play, set in working-class London in 1993 and an overview of the story about two teenage boys who fall in love. As the playwright states, "I felt that with Beautiful Thing I found my voice. But it wasn't intended to be a gay play, just a play that happened to have gay characters." Have students look at the Relationship Map on page 31 of the guide to see how all the characters are interconnected and discuss why the playwright felt it was important to have the characters' lives expanded beyond their relationship with each other.
Watch the Musical Matters: LGBTQ+ Artists on Inclusivity video with your students. Hosted by actor, writer and advocate for inclusion Christine Toy Johnson, the video features Tony Award-winning book writer Lisa Kron (Fun Home) and actress Aneesh Sheth (Bombay Dreams) discuss their work championing queer stories, power structures within the theatre industry, and how to create more inclusive spaces.
College
Have your students listen to the audio play Gross Indecency by Moisés Kaufman, based on the trials of playwright Oscar Wilde in 1895 Victorian England. Kaufman created the script from the actual trial transcript, letters between Wilde and his lover, and Wilde's De Profundis, his treatise on the grand purposes of art and love. Have your students pretend they are the jury listening to the arguments in each of the two trials without knowing the outcome.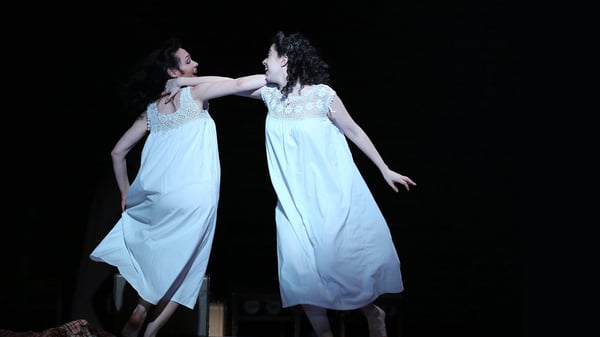 Indecent | BroadwayHD © Carol Rosegg
Have your students watch Paula Vogel and Rebecca Taichman's play Indecent, the story of a troupe of Yiddish Theatre actors who in 1923 are putting on a play that favorably depicts a loving relationship between two women. Discuss with your students Vogel's decision to use the play-within-a-play theatrical device (often favored by Shakespeare) and the ways in which the playwrights document the struggles of the actors against homophobia and anti-Semitism at the same time.
James Lapine and William Finn's musical Falsettos follows the character of Malvin as he tries to navigate his commitment to his family, his attraction to men, and the devastating AIDS crisis. Compare the portrayals of same-sex attraction and Judaism in Falsettos and Indecent. Ask students to think about deliberate uses of music in both plays.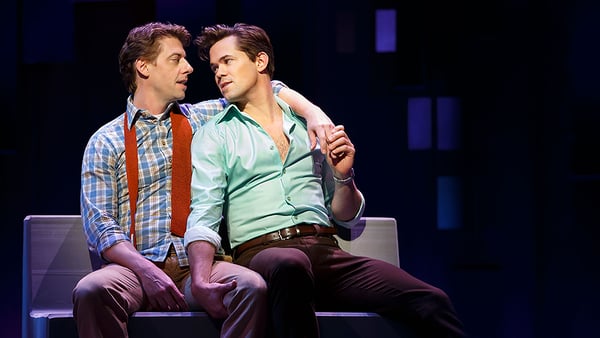 Falsettos | BroadwayHD © Joan Marcus
Gus Gowland's Pieces of String, a new musical which explores three generations of one family, alternates between the 1940s and the present day and tells the story of a World War II soldier who returned home with a secret he would carry until the day he died. Have your students break into small groups and research the US military policies toward queer personnel from 1775 to present day. Then watch with your students Pieces of String and discuss the relationship between Edward and Tom with this historical perspective.
To encourage participation by all students in these activities, it is helpful to note to students who do not identify as queer that showing allyship for their LBGTQ+ friends is key to establishing a school environment in which all identities can be celebrated.
Related blogs
3 simple ways to connect your students with poetry
How do your students feel about poetry? Are they excited by the poems they're studying? Do they...
Read more
Get the latest teaching tips straight to your inbox
Explore free lesson ideas and inspiration, education news, teaching trends and much more by signing up to regular blog updates!